Keith Gates: Bio
Keith Gates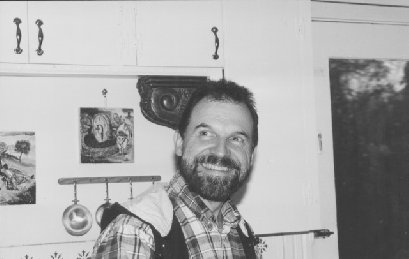 Keith Gates (1948-2007) lived in Lake Charles, home of McNeese State University, where he taught for many years. Gates began serious musical studies in composition as a high school student at the North Carolina School of the Arts in Winston-Salem. After receiving his high school diploma from NCSA, and attending two years of college there, he went to the Juilliard School in New York City, where he earned his BM and MM degrees. His composition teachers included Vincent Persichetti and Hugo Weisgall. While attending the Juilliard School, Gates received the Lado Prize for string writing, and the Irving Berlin Teaching Fellowship for two consecutive years.
Keith Gates composed in many genres including symphonies, concerti and operas. His 100+ works are for band, wind ensemble, orchestra, and choir, as well as for various chamber ensembles and soloists. His second opera, Migle and the Bugs, has been performed in Siena, Italy, and at Alice Tully Hall in New York. He received commissions and grants to write the operas Tom Sawyer, The Hollow, Evangeline, and The Christmas Coin.
Keith Gates received many other commissions from individuals as well as high school, university, and military bands. He was the recipient of numerous awards, including the Louisiana Artist Fellowship, the Louisiana Music Teachers Association Commission Award, the Shearman Research Grant, the Fanfare Festival Composition Award, the National Flute Association Newly Published Music Award, and the Shearman Fine Arts Endowed Professorship (McNeese). He was named 1996 Artist of the Year by the Calcasieu Arts and Humanities Council.
In addition to composing, Gates enjoyed acting and singing. He performed the role of Mozart in Amadeus, Sir Joseph Porter in H.M.S. Pinafore, the pirate king in The Pirates of Penzance, and Brick in Cat on a Hot Tin Roof. As a pianist, he accompanied many student, faculty and opera workshop performances. He was also organist and choir director at Bethel Presbyterian Church, St. Andrew Presbyterian Church, and Temple Sinai in Lake Charles. He is survived by his wife Christa, four children and two grandchildren.
A Pastoral Lament
for my friend, Keith Gates by John Wood
Sweet singing shepherd boy, why have you ceased
To make your songs, and who now tends your sheep?
Have you run off to fields more bright and blest
And left us here to weep?
We wished more time to hear your psalms.
They set so sweet upon our hearts.
Honey of hope and sorrow's balms,
Those were the measures of your arts.
Our singing boy, he now has fled
The fields of grass and flesh to tend
His flocks where pains are shed
And music will not end.